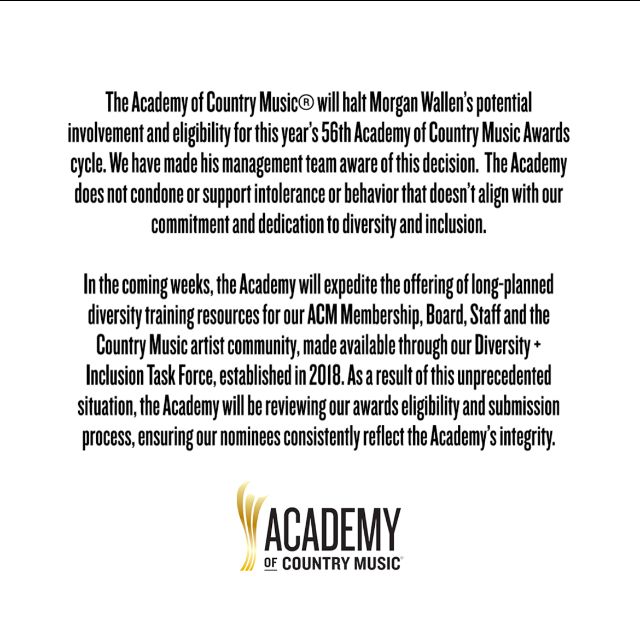 It's going to take a long time, if ever, for MORGAN WALLEN to repair the damage after he got caught using the N-word Sunday night.
As you may have already heard, his music is being banned almost everywhere. That includes streaming services like Pandora, Spotify, and Apple Music. CMT announced that they're "removing his appearances from all platforms."
Even his record label and distributor are distancing themselves. They released this statement yesterday.
Quote, "In the wake of recent events, Big Loud Records has made the decision to suspend Morgan Wallen's recording contract indefinitely. Republic Records fully supports Big Loud's decision and agrees such behavior will not be tolerated."
Don't expect to see him at this year's ACMs either. They posted a statement saying they will "halt his potential involvement and eligibility for this year's Awards cycle."
A few country artists have weighed-in with some pretty strong statements. Mickey Guyton said it "wasn't his first time using that slur." Maren Morris had a similar take. And Cassadee Pope is "disgusted" by his words.
Tyler Hubbard, Old Dominion, and Jason Isbell have also spoken up.
This is the third time in less than a year that Morgan has done something stupid. There was the arrest outside of Kid Rock's bar last May . . . and the infamous partying without a mask that got him booted, and then re-invited to "SNL".
All three of these events seem to be alcohol-related, so it would be shocking if he doesn't seek some kind of help. Whether it's rehab, or religion, or whatever . . . something inside this man has to change or we'll be doing this again.
(If you want more, The Boot has an article called "How Morgan Wallen's Star Fizzled and Fell in Just 24 Hours" . . . and Country Now has one titled "The Ups and Downs of Morgan Wallen's Career:  A Timeline.")
After a drunk Morgan Wallen was caught on video by neighbors using a racial slur, the backlash has begun. Many radio stations have pulled his music & his record label, Big & Loud, has suspended him from their roster.
So you support canceling his music on Star Country?

— WVNW / Star Country 96.7FM (@STARCountry967) February 4, 2021